Tokens.net is a cryptoassets trading platform. It takes just a few easy steps to get started: 1. validate email, 2. set password, 3. enable two factor authentication (2FA) and 4. deposit funds. Cryptocurrencies bitcoin (BTC), ethereum (ETH) and dynamic trading rights (DTR) are recommended, because these have the most trading pairs. Second option is to transfer stable coins like tether (USDT) and stasis (EURS). Fiat currencies dollar (USD) and euro (EUR) have to be converted to cryptocurrencies first, using service like Bitstamp.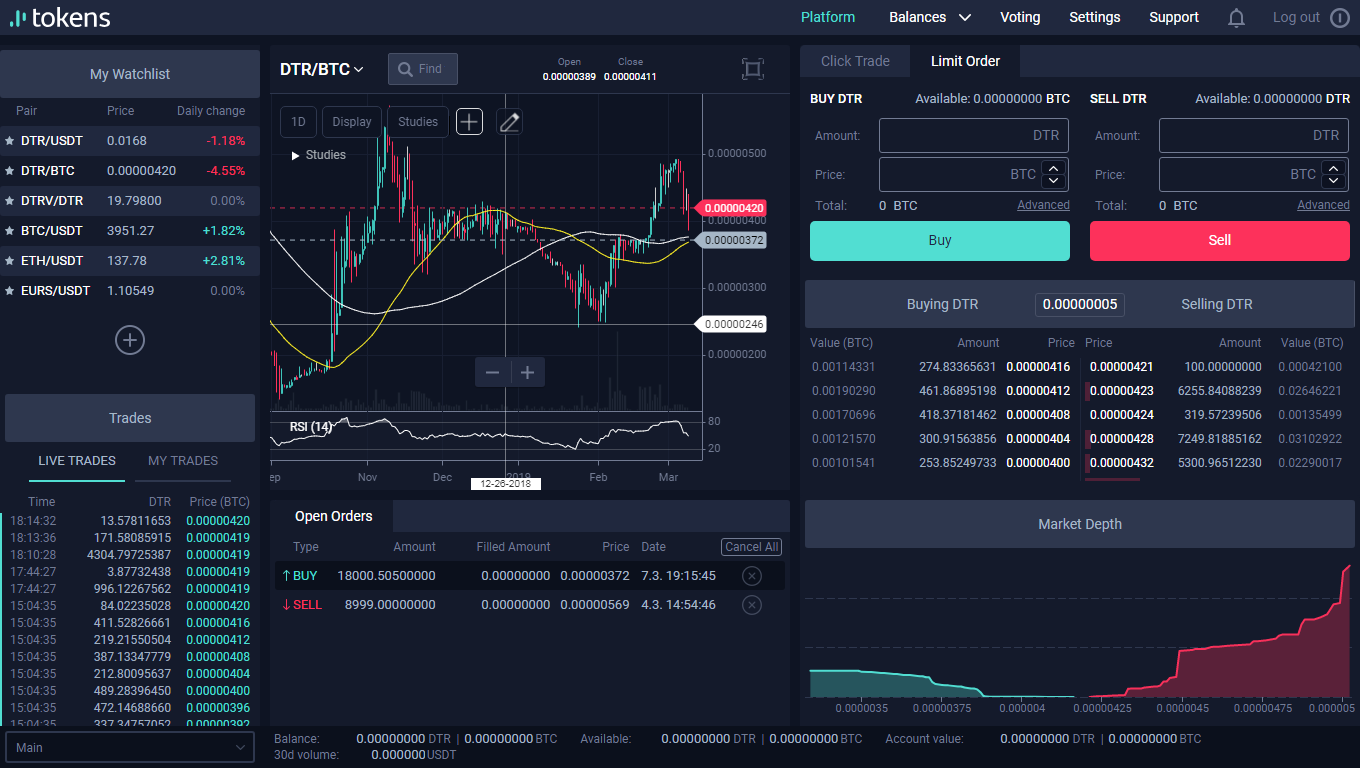 Image: Tokens platform 090319
The user interface is nicely built and intuitive with trading pairs watchlist, price/market-depth chart, order book, market/limit order, open orders and trade history. Graph offers an extensive list of advanced tools and studies suitable for technical analysis. With deposited funds (BTC) choose trading pair (DTR/BTC) by typing in the find box. On the right side select the price with amount (DTR) from the order book to buy/sell. Limit buy (sell) orders are filled in, or they stay in open orders, until there are enough sell (buy) orders for the price. Market buy/sell orders with desired quantity (DTR) are executed instantly at best available prices, for a small fee.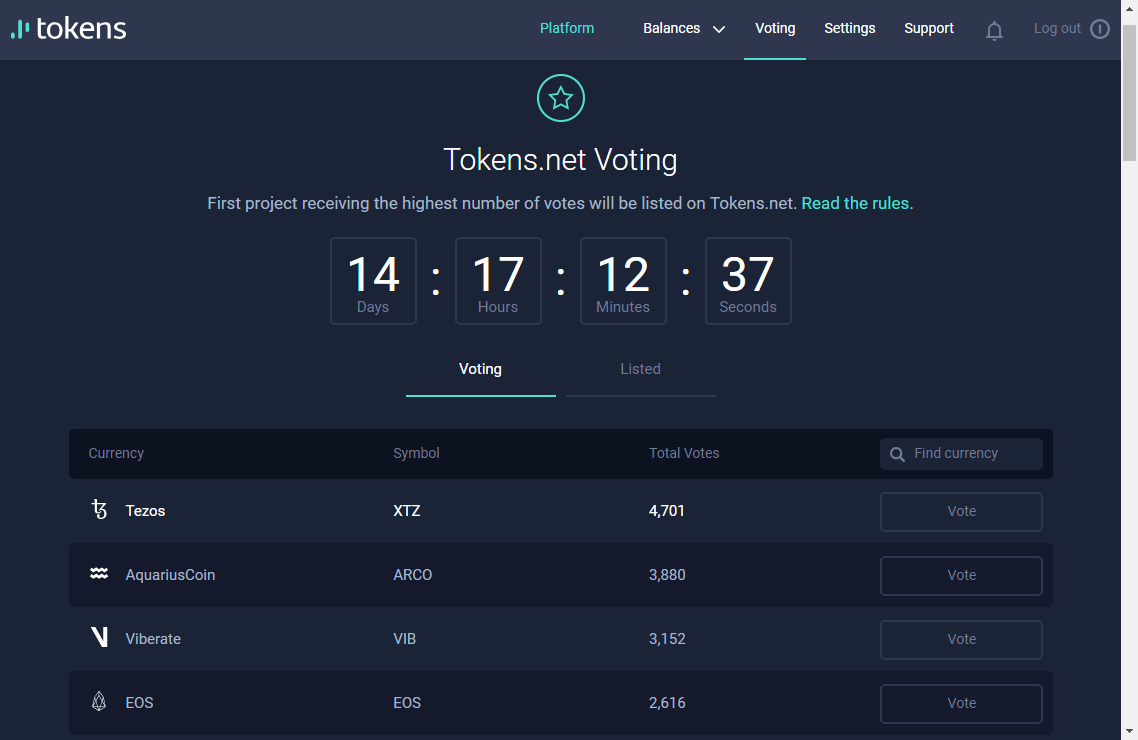 Image: Tokens vote 150319
Crytoassets are getting listed by voting on the platform. After each countdown the one with the highest number of votes gets listed. Votes (DTRV) are tradable on the platform as a cryptocurrency. After used for voting, they become a property of the platform, if subsequently sold, they become revenue. New token suggestions are accepted and a wide range of tokens is about to get listed.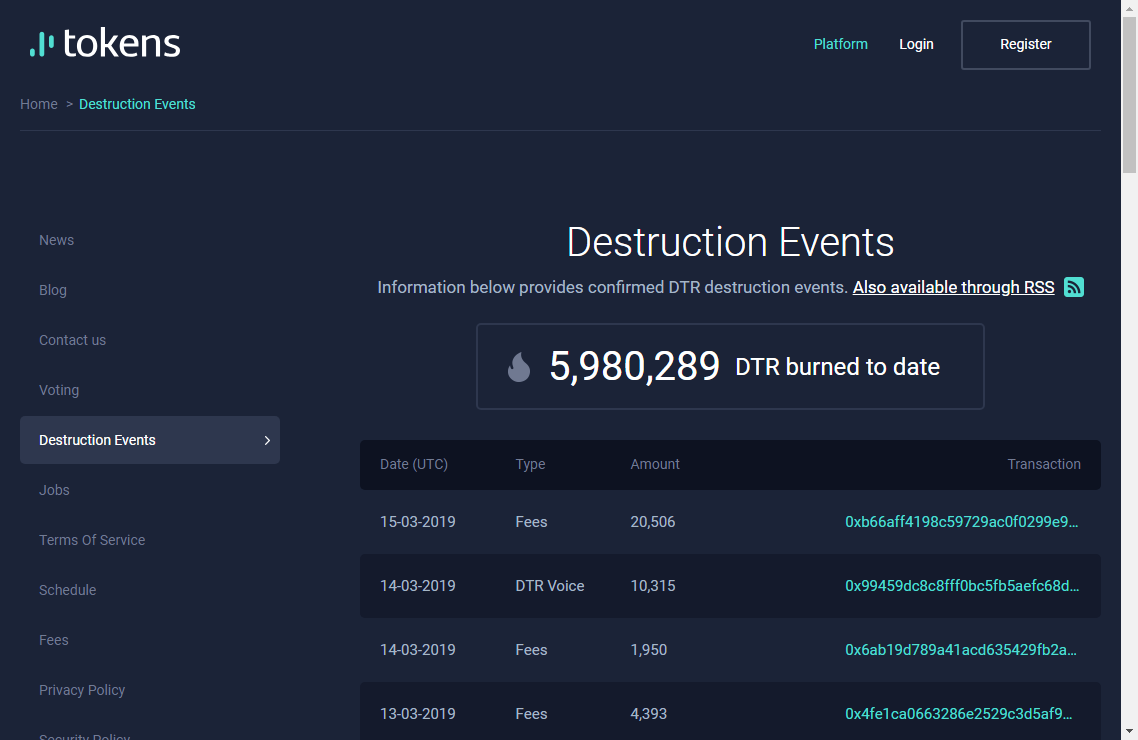 Image: Tokens burn 150319
Currently leading crypto exchange platform burns native tokens every quarter with 20% of revenue, until it reaches 50% of total token supply. Tokens.net burns DTR tokens every day with 100% of revenue, without percentage limit of total token supply. With a growing user base, token listings, volume, revenue, DTR token price is expected to skyrocket.